News
Exploring the Diversity: Different Types of Stone Mats for Your Home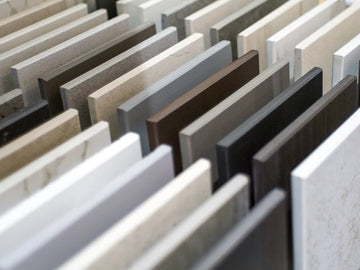 Regarding home decor and functional accessories, stone mats have emerged as a unique and versatile choice. These mats combine the natural elegance of stone with practicality, offering a range of benefits for various spaces. In this article, we'll look closer at the different types of stone mats available, from classic marble to innovative diatomaceous earth mats and more.
1. Marble Stone Mats: Elevating elegance
Marble stone mats exude luxury and sophistication. Crafted from genuine marble pieces, these mats showcase the beauty of natural stone in intricate patterns and colors. Marble's durability and resilience make it an excellent choice for areas that demand style and practicality. Whether in the bathroom, entryway, or kitchen, marble stone mats elevate the aesthetic appeal of any space.
2. Cobble Stone Mats: Rustic Charm with Modern Flair
Cobblestone mats offer a rustic charm that brings the outdoors inside. These mats feature carefully arranged small stones, creating a textured, visually appealing surface that feels delightful underfoot. While cobblestone mats nod to traditional aesthetics, their adaptability allows them to seamlessly fit into contemporary interiors, adding a touch of warmth and character.
3. Diatomaceous Earth Mats: A New Dimension of Functionality
Diatomaceous earth mats are at the forefront of innovation. Made from the fossilized remains of diatoms, these mats are renowned for their rapid water absorption and natural resistance to bacteria and mold. Their quick-drying properties make them ideal for bathroom and kitchen use. At the same time, their non-slip surface enhances safety. Diatomaceous earth mats not only serve a functional purpose but also contribute to an eco-friendly lifestyle.
4. Pebble Stone Mats: Textured Tranquility
Pebble stone mats offer a textured surface reminiscent of riverbeds and natural landscapes. The varied shapes and sizes of the pebbles create a unique tactile experience that can be particularly relaxing when used as a bath mat. These mats bring a touch of tranquillity to your space, inviting a sense of natural beauty indoors.
5. Quartz Stone Mats: Radiant and Resilient
Quartz stone mats are characterized by their glittering appearance and durability. Quartz is a complex and resilient material that adds a touch of luxury to any room. These mats can feature quartz crystals embedded in resin, creating a stunning visual effect that catches the light and adds a radiant quality to your decor.
Choosing the Right Stone Mat for You:
Selecting the ideal stone mat depends on your preferences, the room's decor, and the functionality you seek. Whether you're drawn to the classic elegance of marble, the rustic charm of cobblestones, the innovation of diatomaceous earth, or the textured tranquillity of pebbles, there's a stone mat that's a perfect fit for your space.
Experience the Diversity:
To explore the world of stone mats and discover the right fit for your home, consider browsing through various options like Mophonichome's collection. Each type of stone mat brings its unique appeal, allowing you to create a welcoming and functional environment that aligns with your style.
Incorporating a stone mat into your space is more than just a functional addition; it's an opportunity to infuse your home with stone's natural beauty and practical benefits. Whether you're drawn to timeless elegance, rustic allure, or innovative functionality, there's a stone mat that's ready to enhance your surroundings.