News
Where Can I Buy a Diatomite Stone Bath Mat?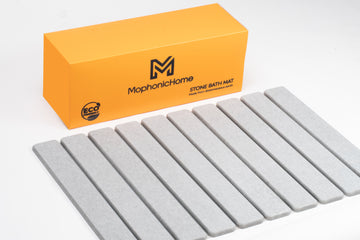 Are you tired of stepping onto soggy bath mats that take forever to dry? Say goodbye to dampness and hello to the innovative world of diatomite stone bath mats. These remarkable mats keep your bathroom floor dry and add a touch of elegance to your space. If you're wondering where to find these cutting-edge bathroom accessories, look no further than Mophonic!
Why Choose a Diatomite Stone Bath Mat?
Before deciding where to buy one, let's explore why diatomite stone bath mats make waves in home decor and wellness.
Diatomite stone, or diatomaceous earth, is a natural sedimentary rock composed of fossilized diatoms. Its porous structure gives it unique properties, such as fast-drying capabilities and exceptional absorption. When transformed into a bath mat, diatomite stone offers:
Quick Absorption: Say goodbye to wet and slippery bathroom floors. Diatomite stone bath mats are designed to absorb water rapidly, keeping your feet dry and your bathroom clean.
Non-Slip Surface: Safety matters, especially in the bathroom. These mats have a naturally non-slip surface, providing stability and reducing the risk of slips and falls.
Eco-Friendly Choice: Diatomite is a natural and sustainable material, making diatomite stone bath mats more eco-friendly than synthetic alternatives.
Easy Maintenance: Cleaning is a breeze! The absorbent properties of diatomite make these mats resistant to mold and mildew. A quick wipe or rinse is all it takes to keep them fresh.
Where Can You Find Diatomite Stone Bath Mats?
When purchasing diatomite stone bath mats, one name stands out: Mophonic. This online destination is your go-to source for high-quality, stylish, and functional diatomite stone bath mats. Here's why Mophonic should be your top choice:
Quality Assurance: Mophonic is committed to providing top-notch products. Their diatomite stone bath mats are crafted with attention to detail, ensuring durability and functionality.
Customer Satisfaction: With a reputation for excellent customer service, Mophonic.com strives to make your shopping experience seamless and enjoyable. Have a question? Their responsive team is ready to assist you.
Eco-Friendly Focus: Just like the diatomite stone itself, Mophonic values sustainability. By choosing their products, you're making an eco-conscious decision for your home.
Elevate Your Bathroom Experience
Transform your daily routine into a spa-like experience with a diatomite stone bath mat from
Mophonic
. Say goodbye to dampness, embrace safety, and add a touch of sophistication to your bathroom decor. Experience the benefits of diatomite stone firsthand and make your bathroom a sanctuary of comfort and style. Simply visit
Mophonic
at:
Mophonic.com